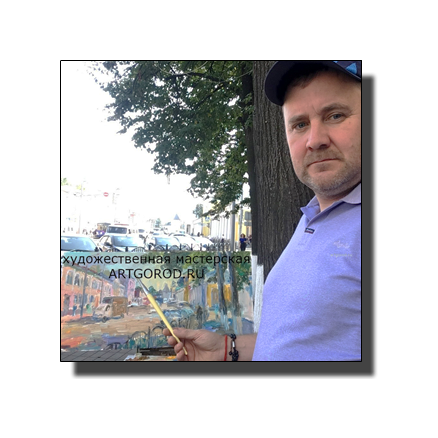 Арт Город
Artur Osipov of year of birth is 1965 from the city of Dushanbe. Since small years he drew much – especially he were successful in characters from the books read to them. Being a teenager, began to be engaged in painting already seriously – attended classes in a fine art studio of the local Palace of pioneers. In the same place there took place it the first personal exhibition.
One of professional artists took Artur to himself in pupils, helping the young man to develop with himself talent and to develop necessary skills of work with a canvas and oil. In the same time Artur was fond of the Tibetan wall painting – in some of his works motives of Buddhist art are traced.
Training in the Dushanbe art school of M.R. Olimov became the following stage in life of the artist. Having received profession of the artist in 1983, Artur moved to live in seventeen-year age to Uglich where the most known and its successful works, including the still lifes and different pictures to order which revealed him as the art universal specialist were written to them. Nevertheless, the artist decided to continue the education and to come to the VGIK to become the artist at cinema. From now on Artur Osipov began to paint various pictures to order at the request of acquaintances and just the people addressing him as to the master of a brush. Artur Osipov graduated from the institute only in 1991 as study was interrupted two years of military service.
For all the time of the professional activity as the painter Artur Osipov created more than one hundred bright and impressive cloths. Width of its creative interests surprises, and ability to express the most important of adequately separate praise on a canvas. There are in its collections and still lifes, and landscapes, portraits and genre works of household contents, an abstraction and animalistics. The artist having in the portfolio is so much thematically different works, can paint any picture to order according to canons of a separate genre. Without a doubt, before us the true professional of the business and the big handyman. How differently it is possible to tell about the master who is so masterly owning a brush?
Get acquainted with Artur Osipov's cloths – you will see that the artist tests in the most different directions – from classical academism to vanguard surrealism and conceptualism. The ability to master the art idea, to present original vision of a typical picture scene is a sign of a creative maturity and author's skill.