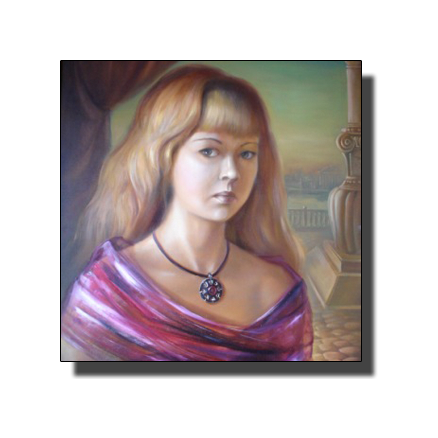 Годустова Светлана
Svetlana Godustova is a professional artist. Svetlana, how many remembers himself, always liked to draw that is quite natural to the child of parents with a creative profession. Her father Fedor Vdovin, the member of the Union of artists of Russia and the teacher of painting, in every possible way approved and indulged Svetlana's desire to go on its feet. As a result, it came to the Yaroslavl art school, one of the oldest educational institutions of the Yaroslavl region when the family returned from Syktyvkar where her father was on distribution after the end of training. By the way, in the same place, in Syktyvkar, in 1973 Svetlana was also born.
Having received in 1993 profession of the artist on advertizing, Svetlana Fiodorovna went to work to art school – thus it could combine professional activity with creativity of which the numerous cloths which got to various private collections and art galleries were result. The artist does not give up the favourite business to this day, drawing pictures as a gift and for sale.
Svetlana Godustova participated in the large exhibitions held in City showroom of N. Nuzhin in Yaroslavl, TsVZ in Moscow more than once. Works of the artist constantly are in great demand and always cause admiration. Drawing pictures as a gift or just as a hobby, Svetlana gives preference to still lifes, classical production or against the background of the nature. However it perfectly receives also other types of pictures as a gift – landscapes and improvisations on various subjects. Here, on the website of our art gallery, you can be convinced of it.
In the works Svetlana Fiodorovna firmly follows the acquired canons of classical academic painting, in particular still lifes. That the first-class work of art turned out, calculations, as in the exact sciences have to be made. The still life has the constructive construction, on a canvas cannot be represented what got objects; the objects making composition have to differ in a form, size, the invoice and color, but, at the same time, harmoniously to be combined among themselves. In addition to everything, during a basting of the general arrangement of objects it is necessary to allocate the composite center, and the size of the image of all group has to correspond to the chosen background. The experienced artist knows all these nuances and is able to apply in work on a cloth. Svetlana Godustova owns all necessary receptions and subtleties necessary for writing of still lifes and landscapes why her works look professional and perfect.