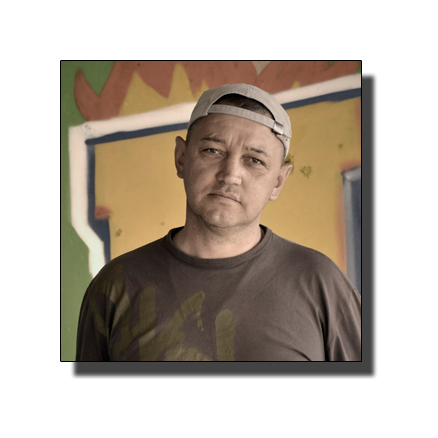 Селин Валерий
Valery Selin was born in Yaroslavl, in 1970. Grew at the ordinary boy, nothing differing from peers and not showing inclinations of future artist in any way. Among the significant moments in its biography – the termination in 1984 of high school, receipt in technical training college. Further life went according to the standard scenario: formation of living positions, search of the place and purpose in this world. And among all other there was still no minimum place for occupations even drawing. Perhaps, as an obstacle served congenital daltonism of Valery or own disbelief in talent of the painter, but, most likely, the destiny just gradually trained him for abrupt turn.
And here on the fortieth year of life, working as the ordinary seller of souvenirs, Selin really began to see clearly, and the inspiration happened suddenly! Once floating around the Internet Valery came across the unusual, bewitching a look interior pictures. They were bright, dynamic and literally breathed life. Leonid Afremov – the former compatriot who lived many years in Israel and the USA, and now engaged in creativity somewhere on own ranch in Mexico was the creator of original cloths. And interior pictures of Afremov began that power impulse which the next day pushed Valery to go to shop for artists and to buy there the first tools and materials for drawing. Amazingly, but, without having either big knowledge of painting, or the minimum technical skills, Selin to a descent, for the first day, created the debut cloth. Of course, not everything turned out ideally, but something extraordinary, sensual, fresh gave to a picture the status of exclusive and demanded creation. Next day the cloth was offered for sale and immediately bought by the Italian tourists.
Since then several years passed, and Valery Selin turned from the beginning artist self-educated person into the master recognized as many private collectors of the abroad and, of course, Russia. As Valery speaks, he honestly writes about everything that sees around itself: landscapes and still lifes, abstractions and imaginations. And the best interior pictures which are drawn on inspiration, but not by request are born literally in 30 – 40 minutes. All its painting is non-standard decisions and total absence of stamps, the real fireworks of paints and a holiday of life!
If in classical painting to you to liking the expressional style and violence of imagination, Valery Selin's creation surely are pleasant to you.
interior pictures, painting to paint a picture, the picture for sale, to buy a picture