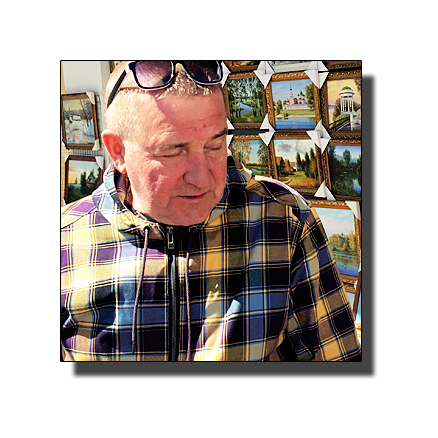 Новожилов Андрей
Despite cheerful images and comical situations, pictures, similar to what we observe in animated films about animals, with animals performed by Andrey Novozhilov it is possible to carry even to animalistics – on his cloths dumb animals are represented, and it is so expressive that it seems as if it is people, but not animals look at you from a canvas. The talent of the artist does their look and a pose in the picture spiritualized and involuntarily understand that animals are capable to think and feel not worse, than some representatives of the human race.
It is obvious that the artist is not indifferent to cats, dogs and other our canine friends. Such conclusion can be drawn after only one view of pictures with animals of authorship of Andrey Novozhilov. All heroes of mini-plots are written out with great love and the gentle relation which are well felt at direct visual contact with a canvas. We have not many masters who are able and like to work in an animalistics genre at what not all from these painters are capable to represent a scene with an animal in the same key, as with the person – so that it did not look as an illustration to the children's book, and corresponded to all main canons of classical painting.
It is wrong to think that the picture with animals is intended for children. Of course, the picture with a cat or a dog moreover and in a playful manner, best of all will be suitable for the children's room, but it does not mean that such picture cannot but be pleasant to adults. There is the whole cohort of passionate fans of dogs and cats who just it is crazy about the pets and are ready to devote them all the free time. The gift in the form of a picture with animals will be more than pleasant surprise for owners feathery and having a tail. And any who belongs with sympathy for dumb animals will like a strange cloth with some touching sketch in which center – a dog, a cat or other representative of fauna.
Even without having any pet, all of you can equally estimate the level of works of Andrey Novozhilov. These pictures were painted from the heart, all efforts and skill of the painter, the love attitude towards animals and an original view of ordinary situations which the rich imagination of the master of a brush could turn into artly significant works were enclosed in them. Try to look also you at dumb animals with kind eyes of the author of these cloths.