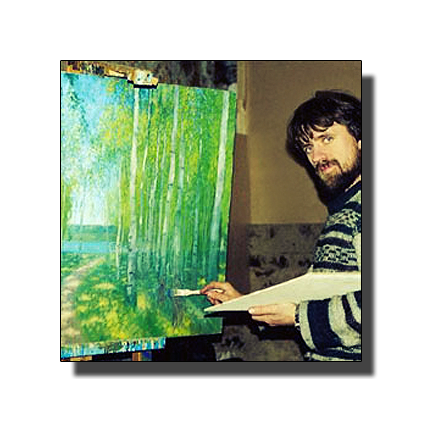 Землин Вениамин
Veniamin Zemlin was born in 1963 in the city Danilov of the Yaroslavl region. Since young years was fond of drawing. The first recognition came at school – the talent of the beginning artist was recognized by all schoolmates of Veni, not to mention the teacher. In 1979 Veniamin Zemlin came to one of the most glorified educational institutions of the Yaroslavl region – the Yaroslavl art school. After the successful end of training, in 1983 went to serve in ranks of the Soviet army. Having passed army service, closely was engaged in creativity and created the whole series of surrealistic cloths. The most known and scandalous is "Turn", gathering crowds of passersby. Because of this work the artist had troubles in militia, as well as because of some other works perceived ambiguously in the years of the Soviet reorganization.
Nevertheless, pictures from the artist Veniamin Zemlin always attracted genuine interest both of art community, and of ordinary judges of painting. Veniamin Zemlin in Danilov lives and works, but often leaves the native land for the sake of participation in another exhibition where he can submit to the judgement to public new pictures from the artist nonconformist. On the account of the painter already more than one hundred various full-fledged cloths, etudes, miniatures and also several personal exhibitions organized in the hometown Danilov and Yaroslavl. His many fellow countrymen would like to receive on a picture from the artist surprising with the never-ending creative energy, rich imagination and genuine interest in life which find the expression on a canvas, in the course of work on the new work. And, it is necessary to tell, Veniamin Zemlin every time with pleasure paints pictures to order.
His subject works are always original, and landscapes and still lifes are full of the sincere and good-natured and cheerful relation to life, than, perhaps, and attract to themselves many audience.
In our art gallery a number of interesting and bright works of the author is presented in what there is an opportunity to be convinced to everyone.
Welcome to a wonderful world of colors, shapes, shades and perfect forms, we hope that you are a real connoisseur of art. You know, we are admiring our activity because it is really noble. It doesn't matter if you do not consider yourself to be an artist. We have one common passion – Arts. It is a vocation to create work of art. So, here you can always find great number of different art-related things.
We have a great variety of perfect works of art like landscapes or portraits, photos and cards, unique examples of crafts and so on. Our experts put great efforts to create this collection. Our goods have unique design, many special options which could indeed help you. You know, nowadays good design is a really important thing. Fashion in this case is really interesting phenomenon - we often like things that look good. And it is normal - after all we get maximum information with the help of the eyes. And our products are a perfect combination of attractive shapes and real good content.
Also our commodities have very high measure of reliability, and this is one of its main advantages. Nowadays we have faced the wave of numerous fakes and falsifications. And sometimes even respectable companies suffer from falsification. And this process has some negative results for everyone. But we guarantee premium quality of our products. We observe the policy of branded commodities.
Even if you are rookie we will help you in choosing convenient product. Real professionals will be surprised by our range of goods. We are sure that even exacting connoisseurs will find noble products in our store.
Our goods and all extra products will help you find your own unique style and become a real artist. We are the ones who form the fashion and our products are the standard of true elegant taste. We have millions of fans all over the world, and those people are really satisfied, they could not even imagine that our goods would be so adorable. So, there is nothing better than thanks from pleased and happy clients.